Bring about the desired change and improvement to your life with hypnosis. Whether you want to lose weight, stop smoking, reduce stress, overcome fears, achieve goals, or reach peak performance, hypnosis can help.
Sometimes our negative beliefs, attitudes and emotions can hold us back from achieving what we really want in life. Henry Ford once said, "Whether you think you can, or think you can't-you're right." Our conscious mind may say we want to do a certain thing, but if deep down our subcoscious mind is not in agreement with the conscious mind, we will fail... [ read more... ]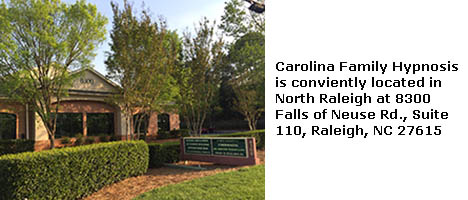 Directions from I-440: Take exit 10 for Wake Forest Road north. Continue onto Falls of Neuse Rd. Turn Right at Salem Woods Dr.

Directions from I-540: Take the Falls of Neuse Road exit and drive south toward Raleigh. Pass through the intersection of Falls of Neuse and Strickland Rd. Immediately after the post office, turn left onto Salem Woods Dr.
Give Carolina Family Hypnosis a call at 919-453-2519. Cynthia will be happy to answer all of your questions so you can comfortably decide if hypnosis is right for you.